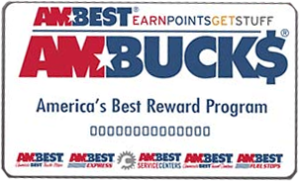 AMBEST Rewards
At McIntosh Energy, we have always worked hard to ensure that every visit to a Macfood Mart Convenience Store or any of our fueling stations is as rewarding as possible.For this reason we launched the AmBest rewards program at two of our major fueling stations. These stations are located at our Wayne Haven location at 6925 E US 930 and our Goshen Road location at 4126 W. Washington Center Road in Fort Wayne.
Benefits of the AmBest Rewards Programs include rebates of up to 5 cents with no transaction fee, a free shower when purchasing 75 gallons of fuel or more, points for fueling and points that can be used for purchasing convenience store merchandise. Learn more about AmBucks here.
Click here to view AmBest locations nationwide.
---