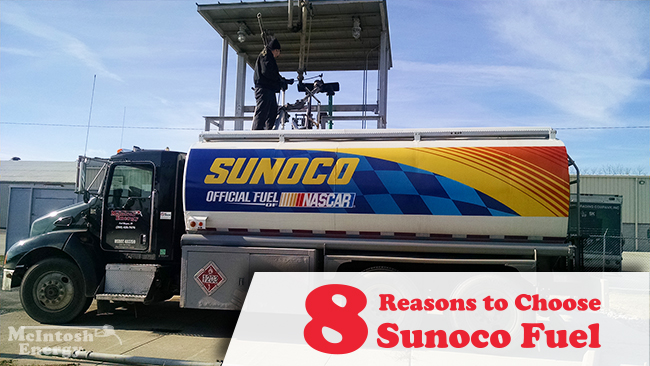 Need fuel? We understand that there are a lot of fueling options out there. Here are 8 reasons to choose Sunoco for your car or your company vehicle.
The Benefits of Sunoco
Sunoco goes above and beyond just meeting EPA (U.S. Environmental Protection Agency) regulations. Sunoco doesn't exceed expectation just for commercial fuel or just for retail. The same standards apply to every gallon of Sunoco branded fuel.
In fact Sunoco is the only major retailer of fuel in the US to sell four grades of retail fuel, ensuring you get the proper octane level for your vehicle.
Sunoco has third party testers ensuring that our products live up to previously mentioned high standards.
These high standards include the addition of corrosion inhibitors and antioxidants helping to ensure quality over the long haul.
Sunoco has a winning legacy. Sunoco distributes to more than 500 race tracks and 50 racing series in the US.
The Sunoco brand brings experience with more than 125 years in the industry.
Sunoco gives back. For more than 50 years Sunoco has worked to help fuel first responders including blood collection vehicles.
Recently Sunoco fuels was listed as the Most Environmentally Responsible Oil Corporation in the United States in a report called the Updated Environmentalist's Guide to Gasoline.
It is easy to fill up your personal or family car at your local Sunoco gas station, but what about fleets or farm equipment? At McIntosh Energy, in Fort Wayne, we offer a host of services including wet hosing. We will fill up each tank in your fleet with top of the line Sunoco fuel. You can even schedule deliveries. At McIntosh Energy we are happy to fill your equipment, your fleet, and your family vehicle with top of the line fuel.
Call 260-426-7676 for more information about tank wagon delivery.
Or visit one of our great retail locations.
*All facts taken from sunoco.com,