What can a Pacific Pride Advantage Fleet Card do for You?
---
---
The Pride Advantage
---
• 1,300+ Pacific Pride Locations & 58,000+ Retail Locations nationwide
• Same billing standards wherever you fuel up
• Keep watch with free online account access
Card Benefits
---
• Restrict time and day fuel can be purchased
• Place restrictions on type of fuel allowed
• Restrict number of gallons per visit
• Place a dollar cap on purchases
• Receive itemized billing each month
• No annual, set up, or monthly card fees!
• Free overnight delivery on all cards!
• Driver photo on each transaction (McIntosh Energy locations only)
Itemized Billing
---
• Provides extensive data including date, time, quantity, and product of every purchase, allowing you to track trends of purchases
• Billing patterns identify saving opportunities
• Provides complex tax information for quick breakdowns and reference to Federal, State, County and tex-exempt if applicable
Your Statement
---
Your statement will include 12 pieces of information for each purchase. You statement will tell you the Card#, Name, Purchase, Location, Date, Time, Odometer Reading, MPG, Product, Quantity, Discount, Price per Gallon, and Amount of Purchase. Complete product descriptions and gallons purchased help manage your fuel activity.
Pricing & Discounts
---
With McIntosh Energy and Pacific Pride commercial fueling cards, your company will receive discounts off of your fueling statement no matter where you fuel. At all retail locations we offer a .0025% discount on all fuel purchases no matter how many gallons you purchase in a billing cycle. Call us at 260-426-7676 to learn more about pricing and discounts.
---
Apply for the Pacific Pride Advantage Fleet Card
---
Download the Pacific Pride Advantage Fleet Card Application
Word Doc
---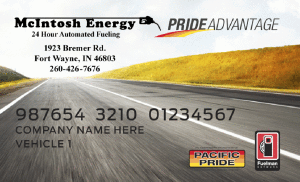 Still not convinced a fleet card is for you? Why don't you talk to our team? We are here to answer your questions. Call us at (260) 426-7676.