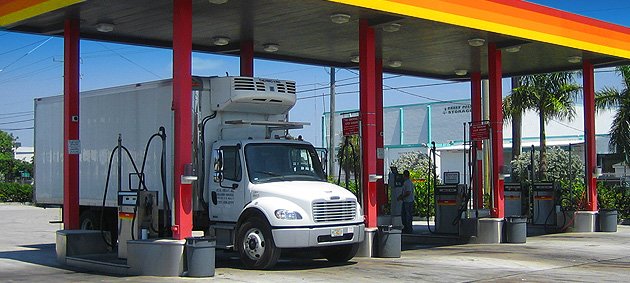 A Cardlock is an automated unattended fueling site designed specifically for fleet vehicles. By focusing only on commercial vehicles, Cardlock systems save managers and drivers precious time and money.
Advantages of a Cardlock System include:
• Your fleet can have access to commercial fueling 24 hours a day, 7 days a week, 365 days a year.
• Only commercial vehicles have access to these sites saving drivers the distractions of untrained and inefficient drivers.
• The absence of a convenience store means fewer distractions for the driver.
• Pacific Pride offers more than 1,000 Cardlock sites throughout the U.S. and Canada.
• Every location provides well-lit easy access for class 8 vehicles.
• Everly location provides diesel fuel with high speed dispensers (40 gal/min).
• You never have to worry about monthly card or service fees.
*Pricing and credit terms are negotiated locally.
Not only did Pacific Pride invent the first Cardlock system, but we continue to manage one of the largest systems across the U.S. and Canada. If Cardlock is not for you, we have plenty of other fueling options including more than 57,000 sites, retail locations and more than 2,500 independent truck stops. You can plan your route with the convenient Pacific Pride app available for Apple and Android.
More About Pacific Pride Advantage:
McIntosh Energy is an independent Franchisee of Pacific Pride. The Pacific Pride card does more than grant access to thousands of Cardlocks across the U.S. and Canada. Our fleet card offers a wide range of controls, maintenance tracking, online reporting and detailed driver data. The Pacific Pride Advantage card puts the fleet manager in the driver's seat. To learn more about the Pacific Pride Advantage card click here.