Why Fleet Controls?
As a business owner or fleet manager, you cannot possibly be everywhere at once. That's why you have a great team. Unfortunately, a great team is not always enough. There is room for improvement. There is room for growth. And, gulp, there is even room to weed out the not so productive employees.
Doing all of this takes data, it takes commitment, and it requires the ability to take control. The Pacific Pride Advantage Card can help you do just that.
How Fleet Controls Put You in the Driver's Seat
The Pacific Pride Advantage Card provides three ways to give you more control:
Set Fuel Controls: With the Pacific Pride Advantage Card you can control which drivers can get which type of fuel and when. Most drivers are honest hard-working men and women, but we all know there are dishonest ones here and there.
Odometer Readings: Odometer readings track fuel usage. This is helpful in determining which drivers are using their fuel most efficiently. It is also helpful in figuring mileage per gallon, alerting you to which vehicles may need more aggressive maintenance.
Itemized Billing: With the Pacific Pride Advantage Card you will receive itemized billing.   Each transaction includes 12 pieces of information: Card#, Name, Purchase, Location, Date, Time, Odometer Reading, MPG, Product, Quantity, Discount, Price per Gallon, and Amount of Purchase. Complete product descriptions and gallons purchased help manage your fuel activity. More knowledge increases your ability to make better informed decisions and invest wisely in your freedom.
Ready to Sign Up For Your Pacific Pride Advantage Card?
Download the Pacific Pride Advantage Fleet Card Application and email to rich@mcintoshenergy.com.
Word Doc
---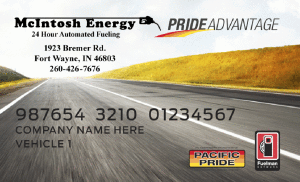 Still not convinced a fleet card is for you? Why don't you talk to our team? We are here to answer your questions. Call us at (260) 426-7676.